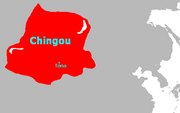 Chingou is an Eastern Asian country that borders Western Isakii. Its population is about 122 million.
The area in Chingou is very hilly. It is full of woods too. The capital is Tona, which is very industrial, compared to other major cities.
Government
Edit
The government of Chingou is a Democracy with a mixed economy. Humans rights are good, and healthcare is free. It's economy is number five in the world.
Since it was formed under a treaty with Isakii, they use mostly Isakii technology. It is much smaller, though. Later Chi Con "allied" with them and sent blueprints for weapons, Chingou now seems to have a editted version of Chi Con's military.
Chingou's main languages are Isakean and Chingoon.
It was formed because of the multiple nuclear plants existing there during the cold war.
Ad blocker interference detected!
Wikia is a free-to-use site that makes money from advertising. We have a modified experience for viewers using ad blockers

Wikia is not accessible if you've made further modifications. Remove the custom ad blocker rule(s) and the page will load as expected.