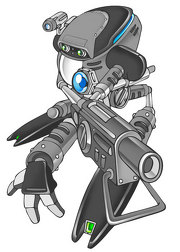 E-114 Sigma, or FOURTEEN, is the leader of Robotech Island, belonging to the E-Robots. He is smart and rules his country with an iron fist.
Background
Edit
E-114 was created with several other robots. One was known as E-101, who was the creator's favourite. However, after years of being a robotic slave, all the robots except E-100 Alpha, E-102 Beta, E-103 Gamma, E-104 Omega and E-114 Sigma were kept by there creator. The robots stayed at the island, when E-114, after several years, crafted the island into beauty.
Friendships
Edit
Sigma, being a robot, has few friends. He is only known to have 1, a girl named Teletha (But many call her Tessa for reasons unbeknown to Sigma). He is has a small friendship with E-103 Delta and E-104 Epsilon.
E-102 Beta is influenced by E-100 to hate him, which is most of the times sparks a fight between them.
E-100 Alpha is E-114s worst nightmare. Alpha was too strong, so it was abandoned at a nearby island.
Corai plans to become his friend one day.
Ad blocker interference detected!
Wikia is a free-to-use site that makes money from advertising. We have a modified experience for viewers using ad blockers

Wikia is not accessible if you've made further modifications. Remove the custom ad blocker rule(s) and the page will load as expected.