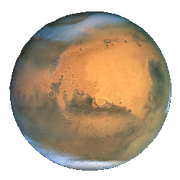 Mars, nicknamed "The Red Planet" because of its reddish appearance because of iron oxide prevalent on its surface, is the fourth planet from the Sun.
Martian Life
Edit
Humans from planet Earth had managed to reach the planet in order to colonize it. The humans expanded their settlement on the planet and formed a large colony that could inhabit a considerable population and contain a self-sustaining economy. The humans studied the planet and had discovered that sentient life was abundant below the surface of the planet. Once contact was made with the Martian intelligent life, humans had allowed them to stay in specially built areas above the planet's surface. Later, humans treated the Martian aliens as lower class citizens. This mistreatment of Martians had resulted with the Solar War.
Population
Edit
Ad blocker interference detected!
Wikia is a free-to-use site that makes money from advertising. We have a modified experience for viewers using ad blockers

Wikia is not accessible if you've made further modifications. Remove the custom ad blocker rule(s) and the page will load as expected.