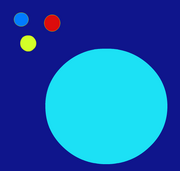 Senisarre is a small planet located in the Senis Star System. It is a water-based planet that has an orbit that is in its star's habitable zone. Underwater, there are caves where large sea creatures live. It has many lush sea weed forests. It also has three moons, in which each one is different in characteristics.
Inhabitants
Edit
This planet is inhabited by a sentient alien race known as the Pteramonstrums. These creatures did not originate from the planet, as they had once moved there long ago. The Pteramonstrums live in these complex structures beneath the planet's ocean.
Ad blocker interference detected!
Wikia is a free-to-use site that makes money from advertising. We have a modified experience for viewers using ad blockers

Wikia is not accessible if you've made further modifications. Remove the custom ad blocker rule(s) and the page will load as expected.