Hey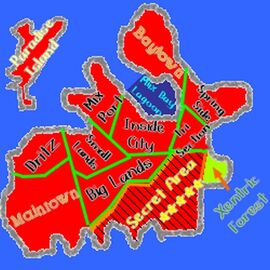 guys.

I just created a new project: Xentrica on Rails (it parodies a name of a web-framework, Ruby on Rails).
It is to see how much help I can get in the evolution of my country - Xentrica.
Well, I want to have my country's page with lots of information and stuff. So I request help from other users here to help me with it! I need more headings there, for example, about all cities (shown in the map).
If someone is creative enough, could add a section to each city with good information. The cities are:
Maintown - Capital
Baytown - Second Capital
Dritz
Small Lands
Bigs Lands
Inside City
Mix Port
Tri Section
Spring Side
And it has also a Secret Area, witch is big enough to sustain high-tech military, spaceships, etc.
Not forgeting about the:
Xentric Forest
Mix Bay Lagoon
Paradise Island - I'll make stuff about this one myself. Don't worry.

You can also put information about the animal species (its fauna). I want all of them original, unique and endemic (native) to Xentrica! Zapwire was the first one to contribute in this part. He created the endangered species of Kalick.
I will add all contributors to this project to this blog post in the list below.
Contributors
→ Gave me some ideas about resources. Created the Kalick, witch is really creative.
→ Works on Xentrica's animals and politics.
Major contributors (those you contributed to this project in a, let's say, "massive" way) will have a special role in the Xentrica history that I will choose. Don't ask me witch roles I'm taking of, they are all surprise!
More details coming soon! (When some users contribute)
Publicity
Xentrica on Rails
Let's put this project on its rails!
Ad blocker interference detected!
Wikia is a free-to-use site that makes money from advertising. We have a modified experience for viewers using ad blockers

Wikia is not accessible if you've made further modifications. Remove the custom ad blocker rule(s) and the page will load as expected.